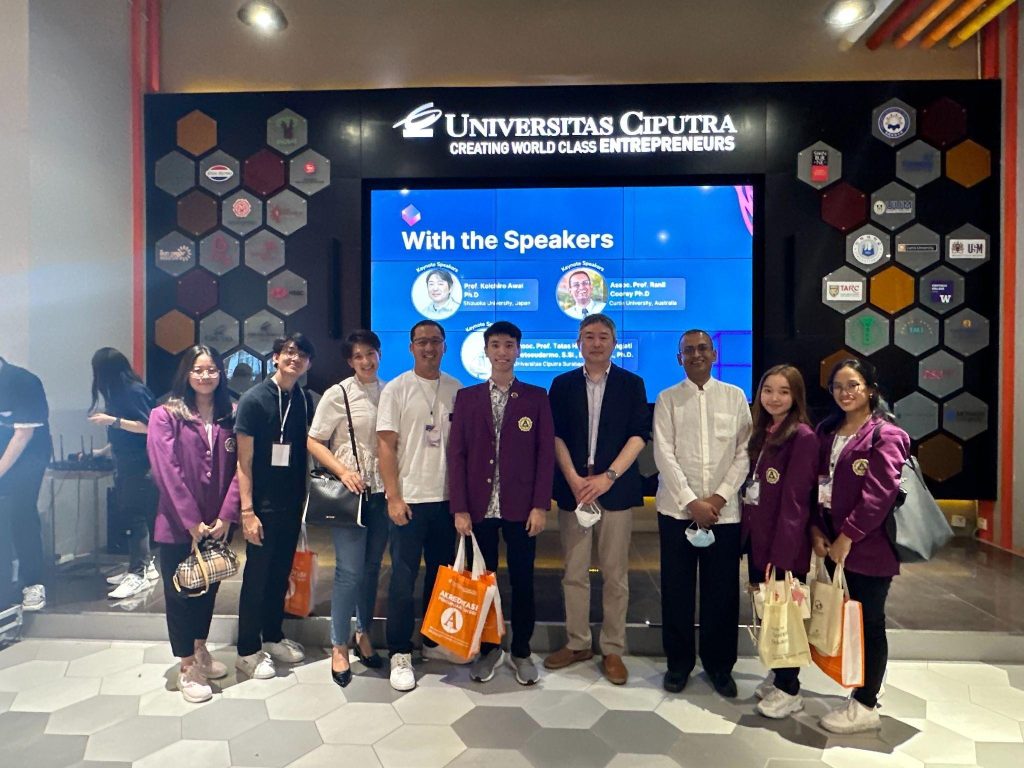 Lima orang mahasiswa Fakultas Teknologi Pertanian (FTP) Soegijapranata Catholic University (SCU) atau lebih dikenal dengan Unika Soegijapranata berhasil memenangkan kategori Best Paper karya ilmiah dalam kompetisi Konferensi Internasional yang diselenggarakan oleh Universitas Ciputra Surabaya pada 12 Mei 2023 lalu, bersamaan dengan satu tim dari Universitas Madura.
Sebagai salah satu universitas dengan Program Studi Teknologi Pangan terakreditasi Unggul, perguruan tinggi swasta terbaik se-Jawa Tengah dan DIY, SCU mengirimkan lima mahasiswanya dibagi menjadi 2 tim. Tim pertama yang beranggotakan dua orang, yaitu Allicia Brilia dan Severus Ryan mengangkat tema  Food Culinary and Arts dan Food Processing dengan judul "Juicero: Mango Blend Concentrate Infused with Indonesian Spices as a Tourism Gastrodiplomacy," sedangkan tim kedua yang beranggotakan tiga orang, yaitu Michael Sean, Olivia Zierra, dan Bella Lorenza, mengangkat tema Food Microbiology dengan judul "Mojuice: A Fermented Bitter Melon Juice with Hurdle Technology to Maintain the Quality up to Six Months Ambient Shelf Life."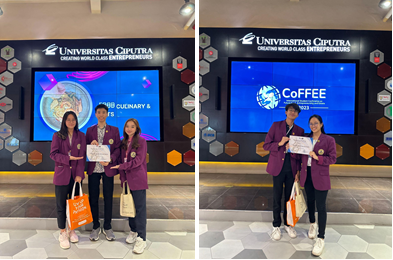 Kompetisi paper karya ilmiah ini merupakan salah satu kegiatan yang disoroti dalam Konferensi Internasional yang diselenggarakan oleh Himpunan Mahasiswa Program Studi Teknologi Pangan Universitas Ciputra Surabaya ini. Konferensi Internasional bertajuk CoFFEE (International Conferences on Future Food, Entrepreneurship, and Estate) ini merupakan konferensi internasional di bidang teknologi pangan, yang diramaikan kan dengan pameran poster ilmiah, presentasi karya ilmiah, serta CEO Talk sebagai wadah bagi para peserta, baik nasional maupun internasional untuk berbagi pengetahuan atau gagasan tentang kebutuhan dan permasalahan bahan pangan lokal serta potensinya dalam pengelolaan, pengolahan, dan kesehatan berkelanjutan di Indonesia.
Kegiatan ini memulai rangkaiannya pada 5 Januari 2023 lalu dengan pengumpulan abstrak dari para peserta sampai 27 Maret 2023 lalu, kemudian dilanjutkan dengan seleksi dan pengumuman pada 18 April 2023. Selanjutnya pada 2 Mei 2023, para peserta kemudian mengirimkan full manuscript dan powerpoint yang digunakan untuk present pada puncak acara, yaitu Conference Day yang diselenggarakan pada 11-12 Mei 2023.
Bukan hanya diikuti oleh para mahasiswa, kegiatan ini juga menghadirkan banyak dosen dan guru besar sebagai bukan hanya peserta melainkan juga presenter karya ilmiah.
Kegiatan ini menghadirkan Prof. Koichiro Awai, Ph.D, dari Shizuoka University, Jepang, Assoc. Prof. Ranil Coorey Ph.D, dari Curtin University, Australia, Assoc. Prof. Tatas Hardo Panintingjati Brotosudarmo, S.Si., Dipl.Chem., Ph.D., dari Universitas Ciputra Surabaya, Assoc. Prof. Sri Fatmawati S.Si., M.Sc., Ph.D, dari Institut Teknologi Sepuluh November sebagai Keynote Speaker. Selain itu, kegiatan yang diselenggarakan di Universitas Ciputra Surabaya ini turut menghadirkan Cipto Suwarno Kurniawan B.Com., Dipl.HRM, selaku Owner & CEO of PT. Parimas Boga Raya sebagai pengisi dalam CEO Talk.
"Sungguh pengalaman dan kompetisi yang luar biasa yang bisa kami alami bersama. Mulai dari pembicara dari Australia, Jepang, Indonesia yang insightful, praktisi dari industry, yang sangat memotivasi, hingga seluruh peserta yang membawa ide-ide menarik," jelas salah satu peserta dari SCU.
Pengalaman dalam kegiatan ini tentunya memberikan semangat baru dan memperluas pengetahuan para peserta, khususnya mahasiswa FTP SCU dalam bidang pangan, "kami sangat bangga bisa berkesempatan untuk menghadiri dan berpartisipasi langsung dalam acara CoFFEE 2023 dengan membawa nama FTP SCU," tambah salah satu mahasiswa peserta SCU. [FTP]